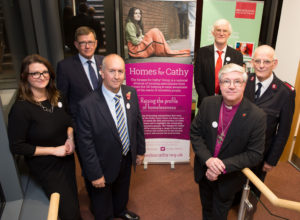 Broadland Housing Association, established in Norwich in the 1960s, has been busy marking the 50th anniversary of the first screening of "Cathy come home" by the BBC.  The Ken Loach directed docudrama significantly raised awareness of the plight of the homeless in the UK and, fifty years later, the message is still very relevant.
Broadland is part of a national coalition of over 20 housing associations, all established in the 1960s and early 1970s, who have come together to form the Homes for Cathy campaign.  Events have been organised across the country, involving local communities and local politicians, to raise the profile of homelessness and the lack of affordable housing.
In Norwich, last Friday, Broadland hosted a screening of "Cathy come home" followed by a lively debate chaired by The Rt. Rev. Graham James, the Bishop of Norwich.  The panel included Phil Kirby, the Chief Executive of Broadland District Council: Major Barry Willson from Salvation Army: Alan Waters, the Leader Norwich City Council; Kate Slack, a Board Member from Broadland Housing Association; and Michael Newey, the Chief Executive of Broadland Housing Association.
Homelessness is becoming an ever increasing problem in Norwich and across Norfolk. Major Willson said that the continued need for the Salvation Army soup kitchen in Norwich city centre highlighted the growing problem.
Alan Waters commented that following the screening he felt that low pay, insecure employment and low quality homes were still as big an issue today as they were 50 years ago.  He felt that the councils still had a key role to play in resolving the underlying issue of homelessness.
Phil Kirby said that in some respects the housing industry has moved on significantly, due to better regulation of housing standards. Yet there are still not enough homes and young people are still the most affected.
Michael Newey commented that even today, 50 years on, some families remain only 3 pay cheques away from finding themselves homeless.  He stressed that not enough homes of all tenures are being built, but there is especially a significant lack of new homes to rent at affordable and social rents. He called on parliamentarians of all political parties to commit to ensuring that the welfare system and government investment tackled the growing problem of homelessness.
He was also sad to note that there are still not enough affordable houses being built, with no easy ways to meet the increasing housing need.
The Bishop of Norwich ended the evening by saying that he hoped that the screening and debate had contributed a little towards raising the public consciousness  of the need to find a solution to the housing crisis and how clear it is that we need more affordable homes.
For more information on The Homes for Cathy Group please go to homesforcathy.co.org.